"They sketch the portrait of frappé and paint a picture of the modern Greek."

Fotini Barka, Eleftherotypia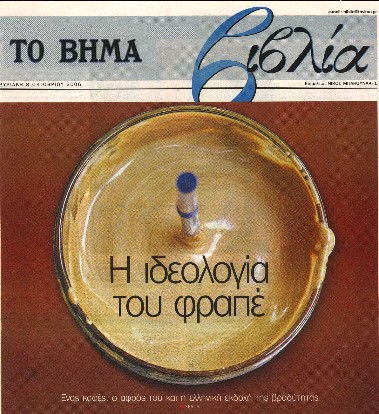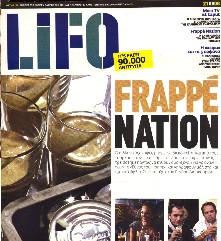 Frappé Nation maps Greece through its favourite coffee

In Frappé Nation, Vivian Constantinopoulos and Daniel Young use Frappé – the cold whipped instant coffee that is the most popular coffee in Greece – as an occasion for an unusual touristic-historical-sociological tour of Greece.
Excellent photographs – taken in cafés, on sidewalks and in crowded city squares where people of all kinds enjoy their coffee – record details of the place and its customs, mapping an entire country. They map its everyday culture, focusing on the coffee break – the pause in the rhythm, the passage from ordinary life to talking about life. The very ritual of making Frappé, described extensively in the book, says a lot about the make-up of this country. A handsome volume that offers a novel take on contemporary Greece.

Ithaca Online is a monthly English-language journal from the National Book Centre of Greece (EKEBI), offering a sample of Greek books, from novels and short stories to children's literature, essays and large-format illustrated publications.






Greek fuel: Frappé unpacked

Vivian Constantinopoulos and Daniel Young explore
the charms and aficionados of instant iced coffee

by ELIS KISS

You thought it was ouzo, but Greece's national drink as it turns out is not the world-known anise-flavored aperitif, but a combination of instant coffee, sugar (optional), water and ice.
Frappé coffee, argue Vivian Constantinopoulos and Daniel Young in "Frappé Nation" ("Ora gia Frappe," Potamos Editions), "is nothing less than a modern Greek elixir."
An enjoyable Greek/English read, the book narrates how the coffee drink
quenches the country's thirst for communication and interaction...read more






It's all in the foam

Frappe Nation captures what makes Greeks tick

by Angelike Contis

The paradox about frappe coffee is that it is both about speed and slowing down. Clients can't get too mad when taxi drivers must stop to order one, for they know it'll take only a couple of minutes. At the same time, when you add water to the brown foam, the coffee's lifespan can stretch out for hours.
The frappe is an answer to modern life's demands and Greek cafe/agora social habits, Vivian Constantinopoulos and Daniel Young point out in their new gift book Frappe Nation...read more